Our Mission
Our mission is very simple:
We seek to provide superior service, to do the best job we are capable of each and every time, at a price that makes sense;
We believe that there are some fundamental cornerstones of our pest management philosophy:
We believe servicing your home is a privilege, we are blessed to do so;
We believe that regular pest control service regardless of frequency should entail inside and outside service each time;
We believe that on time delivery (punctuality) is required by us; We believe that whenever possible to use plant based liquids or baits to achieve excellent results, to minimize any potential hazards to you, your family or your pets;
We believe that without our customers we don't exist, therefore, every effort is made to accommodate our customers busy schedules, times, etc. even on weekends;
We believe that since we rely on reviews and referrals to grow our business,therefore we seek to "dazzle and amaze" each and every time and lastly, we believe that pricing should be reasonable and affordable.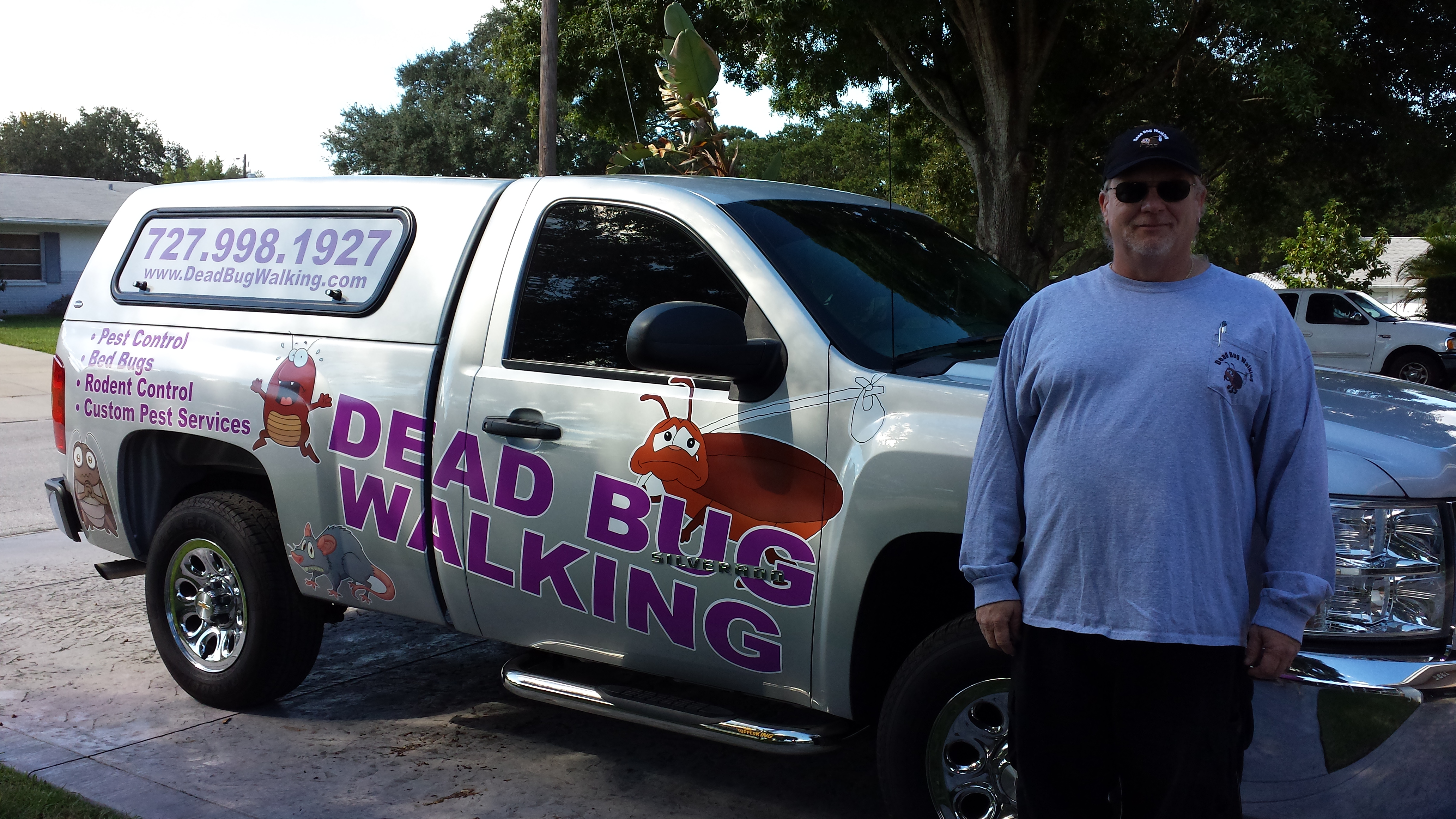 Our Services
Dead Bug Walking provides Pest Management Services throughout Tampa Bay and is committed to providing quality customer service to all of our clients. Our Services are meant to meet YOUR needs.
I'm so happy that I came across this company. They are very professional yet treat you like family. Our rodent problem was taken care of quickly and John stays in close touch. I highly recommend them.
Debbie O
Oct 09, 2014
By far THE most exceptional and professional service I have ever had. Appointments are kept, always arrive on time and respect you, your home and your privacy!
Barbara P
Jun 26, 2015
Dead Bug Walking us the ABSOLUTE BEST!!! The owner is such a pleasure to do business with . . . And his pest control techniques are so very effective. In this day and age, he is a breath of fresh air . . . He takes his time and is extremely patient and thorough . . . His communication skills are second to none . . . I never have to guess about what's going on . . . I trust him implicitly and thank God for a business that gets the job done . . . Nothing bugging me anymore!!! Thanks, John .
Scott R
Jul 02, 2015
Dead Bug Walking has gone above and beyond with the services they provide. They are very informative with any issues around the premises by explaining what is being done and how it is being treated. They are very professional and I highly recommend Dead Bug to anyone looking for a great pest control service!!
Casie G
Jul 19, 2015
For the past 9 months the service we have received has been exemplary, it has exceeded our expectations. Words cannot adequately express how truly grateful we are to have Dead Bug Walking handle our pest control. They are extremely knowledgeable, professional and competitively priced. If a pest problem arises we simply call Dead Bug Walking and we know we can count on them to take care of any issue quickly and effectively. The response is always fast, reliable and comprehensive. We cannot say enough good about this company, its representatives, and the service we receive! We highly recommend Dead Bug Walking to anyone and everyone in need of pest control services! The entire staff here at Love Animal Hospital thanks you, Dead Bug Walking!
Jacki L
Sep 09, 2015
I had a "sugar" ant problem that I could NOT conquer. Also, I occasionally saw some roaches in my garage and a few that would come up through the drain in my master bathroom shower. I simply can't be more impressed by the Dead Bug Walking service. It just doesn't get any better. They were with a couple days of my call and John spent time to educate me about this breed of Florida ants and roaches. Their treatments, combined with my newly educated habits in the kitchen made the ants vanish within 24 hours. I don't see any more roaches at all now either. My problem is solved. My only disappointment is that I didn't call them earlier. I couldn't be more grateful and Dead Bug Walking will forever be my pest control solution going forward. Thank you!
Tami D
Sep 15, 2015
I saw the facebook ad for Dead Bug Walking and what drew me in as the "treats you like family" moniker. So I called and explained my issue to John. I was embarrassed to admit I had a major roach issue. John came right out and gave me a reasonable price and explained the details, the cost, what to expect, treatment plan and what I needed to do. John did exactly what he said when he serviced my house. He was punctual, did a great job because I soon saw lots of dead roaches after a few treatments and at a few more treatments I didn't see ANY!! I am happy to say I am roach free. Dead Bug Walking and John specifically is absolutely hands down the best I have ever dealt with and has made me a believer and forever customer. THANKS DBW
Veronica K
Sep 29, 2015
By far THE most exceptional and professional service I have ever had. Appointments are kept, always arrive on time and respect you, your home and your privacy!
Lynda M
Oct 09, 2015
I had the most amazing experience with John at Dead Bug Walking. It all started with a tick infestation. That's right, ticks, all over my house. It was awful and I was scared I would never be able to get rid of them. John reassured me that he would be able to get rid of them. He was extremely thorough and took time to explain the process, what I needed to do pre and post treatment. He even came back to retreat. If you want amazing customer service, great price, friendly company then I would highly recommend Dead Bug Walking. Thanks so much!!
Stephanie S
Feb 03, 2016
Great people! Knowledgeable! Friendly! The owners and company go the extra mile! John checks in periodically, and wants (really wants) to know how things are…..good or bad! We've had a few minor issues, and John resolved immediately. With all the rain, we had some extra critters want a dry place to reside, and Dead Bug got them Walking elsewhere!
Annette M
Apr 04, 2016
Very impressed with my service! John was very responsive and prompt! Highly recommend him based on the services provided so far!
Allison G
May 03, 2016
Excellent customer service. Always comes out within a day if I need to call, which is hardly ever since they do such an amazing job! Highly recommend!!
Judie R
Jul 08, 2016
If you are looking to support an amazing small business, this is the one!!! The owners of Dead Bug Walking make you feel like family, not just an address in their system. I highly recommend Dead Bug Walking for not only their pest control services, but their customer service. I have referred Dead Bug Walking to many friends and family, for a reason!! Thanks again for always keeping us happy, John!
Rachael L
Jul 16, 2016
There is a reason every review dead bug walking gets is 5 stars. They do a great job and their customer service is absolutely amazing. I've always preferred to support small businesses rather than the large corporations and John has really showed me why they are better. He goes above and beyond to make sure the customer is happy and he really cares about you. Thanks so much John!
Andrew K
Sep 17, 2016